Pack Size: 1x12sheets
SKU #64301
| | |
| --- | --- |
| Case Size | 23.62''x 15.75''x 3.54'' |
| Pack Net Weight | Weight8.73 |
| Case Gross Weight | 9.026lb |
| Cases Per Pallet | 95 |
| Case Cube | 0.76ft3 |
| Net Weight | 12.8oz |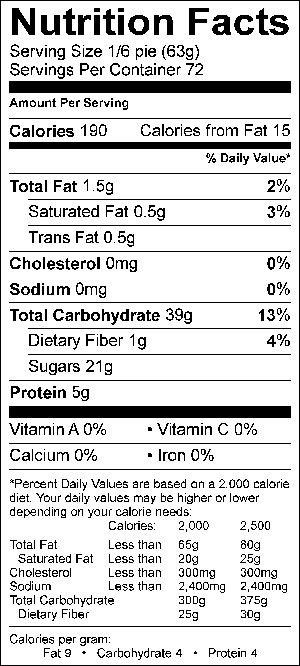 PHYSICAL
Unit weight: 12.8 to 14oz (363 to 397g)
Unit dimensions:
- Thickness: 0.16 to 0.24" (4.06 to 6.1mm)
- Length: 22.72 to 22.95" (57.71 to 58.29cm)
- Width: 14.84" to 15.08" (37.69 to 38.30cm).
ORGANOLEPTIC
Smell: biscuit
Texture: soft
Taste: biscuit
CERTIFICATES / CLAIMS
GMO free, Kosher.
Ingredients
WHEAT FLOUR, SUGAR, WHOLE EGGS, WATER, EGG WHITE, SYRUP OF GLUCOSE POWDER, STABILISER: SORBITOL, BAKING POWDER: SODIUM PYROPHOSPHATE AND BAKING SODA, PEA-FLOUR, EMULSIFIER: MONOGLYCERIDES AND DIGLYCERIDES OF FATTY ACIDS, PRESERVATIVE: CALCIUM PROPIONATE, POTATO STARCH, SALT, MILK PROTEINS, VANILLA FLAVOR.

CONTAINS: WHEAT, EGGS.
MAY CONTAIN SOYBEANS AND TREENUTS.