Mango Passion Finger Cake
Pack Size: 28/2.75 oz
SKU #62129
Almond Biscuit, mango & passion fruit compote, white chocolate mousse, mango passion topping.
Read Details
| | |
| --- | --- |
| UPC | 825414621296 |
| Pack Net Weight | Weight1.00 |
| Case Gross Weight | 5.36 |
| Cases Per Pallet | 220 |
| Products Per Case | 28 |
| Net Weight | 4.81 lb |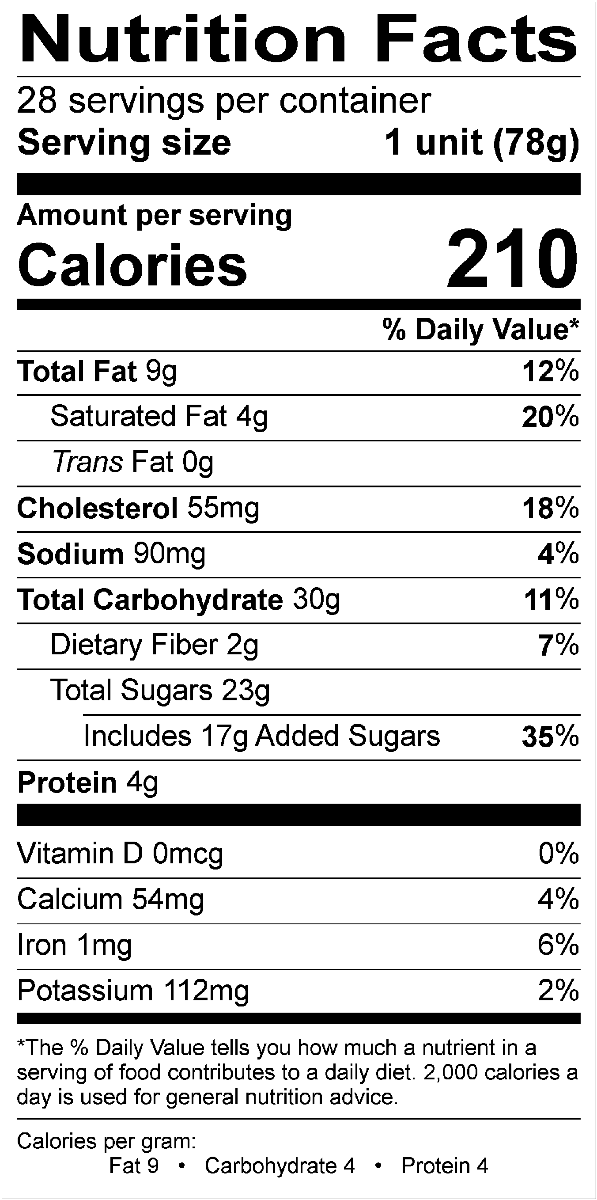 PHYSICAL
Unit weight: 2.75oz (78g) Unit dimensions: 5.12"x0.98"x1.38" (130x24.9x35mm)
Ingredients
JOCONDE CAKE (EGG, SUGAR, WHEAT FLOUR, ALMOND POWDER, WATER, PEA FLOUR, EGG WHITE POWDER, BAKING: DISODIUM DIPHOSPHATE, SODIUM HYDROGENATE CARBONATE [SUBSTRATE: WHEAT STARCH], EMULSIFIER: MONO-AND DIGLYCERIDES OF FATTY ACIDS [PROPANE-1,2-DIOL ESTERS OF FATTY ACIDS, STABILIZER: GLYCOL PROPYLEN], POTATO STARCH, WHEY PROTEIN), PASSION FRUIT PUREE 16,5% (PASSION FRUIT 90%, SUGAR), STERILIZED CREAM U.H.T. (CREAM, STABILIZER: CARRAGEENAN), MANGO CUBE 10.4%, SUGAR, WHITE CHOCOLATE 6.2% (SUGAR, WHOLE MILK POWDER, COCOA BUTTER, EMULSIFIER: SOY LECITHIN, NATURAL VANILLA FLAVORING), GLUCOSE SYRUP, STERILIZED SEMI-SKIM UHT MILK, MANGO PUREE 2%, EGG YOLK, PECTIN (AMIDATED PECTIN, DISODIUM DIPHOSPHATE, TRICALCIC PHOSPHATES, DEXTROSE), GELLING AGENT: FISH GELATIN, MODIFIED CORN STARCH, RIPE PASSION FRUIT SEED, NATURAL VANILLA FLAVORING.
CONTAINS: MILK, TREE NUTS (ALMOND), WHEAT, EGGS, SOYBEANS AND FISH (GELATIN).