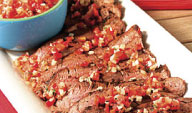 Antipasti Salad
1 bag Grilled Eggplant
1 bag Grilled Red Pepper Slab
1 bag Grilled Zucchini Slices
1 tray Roasted Red Tomatoes
2 bags X-Fine Asparagus Spears 4"
1 bag Artichoke Quarters Egypt
1 tray IQF Buffalo Mozzarella Pearls
2 oz Maille Vinegar Balsamic Modena
1 jar Pitted Salt Cured Olives (14oz)
4 oz Olive Oil
1 tbsp Garlic
1 tbsp Basil Pesto
1 bag Grilled Yellow Pepper
Salt & Pepper to taste
1. Thaw and pat dry all grilled and roasted vegetables except the tomatoes. Cut them into bite size pieces.
2. Saute the artichoke quarters, chill, reserve.
3. Combine eggplant, red pepper, yellow pepper, zucchini, roasted tomatoes, asparagus, artichoke and olives and keep chilled.
4. To make the dressing combine olive oil, garlic, basil pesto, vinegar, salt and pepper, adjust seasoning to taste.
5. To serve add dressing to the grilled vegetables and add the Bufala mozzarella pearls.
6. Tip: Dress only what you are serving and serve at once as the Mozzarella will discolor from the balsamic vinegar.
Chicken Pesto salad, Verrine with quinoa, Salad Nicoise