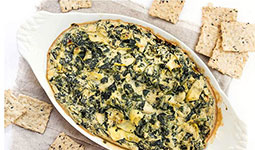 Artichoke and Spinach Dip
1lb Artichoke Quarters Egypt
1lb Spinach Leaves
1 bag Parisian Bread
2 cloves Garlic
Olive Oil
1/2 cup Grated Parmesan Cheese
Salt and Pepper to taste
1. Preheat oven to 350°F.
2. Cook frozen parisian bread for about 15 minutes or until golden brown.
3. Cook artichokes and spinach according to package directions.
4. Squeeze dry and chop roughly.
5. Place artichokes, parmesan cheese and a generous drizzle of olive oil oil in a food processor and pulse to a chunky puree.
6. In a bowl, mix artichoke mixture and spinach.
7. Add salt and pepper to taste.
8. Serve with slices of parisian bread.
Goat Cheese Bruschetta, Crunchy aspargus roll & wasabi cream, Foie Gras & Porcini on Brioche, Ravioles du Royans Verrines