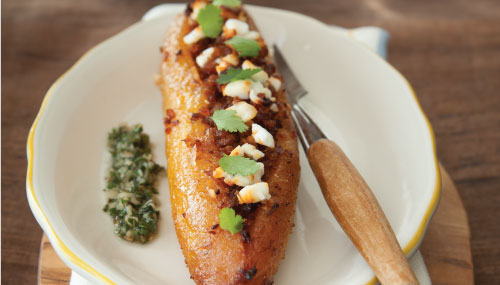 Chorizo and Goat Cheese Stuffed Plantains
Whole Plantains 1 pack.
Crumbled Goat Cheese 1 cup.
Spanish Chorizzo 1 unit.
Chimichurri 1/2cup.
Coriander: 1 tbsp
Cilantro: 1/2 cup
1. Sautee chorizo with coriander.Drain excess oil/fat & reserve.
2. Bake plantains at 375 until goldenbrown.
3. Cut lengthwise. Add chorizzo and crumbled goat cheese, sprinkle with fresh coriander.
4. Serve with Chimichurri.
Goat Cheese Bruschetta, Crunchy aspargus roll & wasabi cream, Foie Gras & Porcini on Brioche, White Toque's Spanish Empanadas