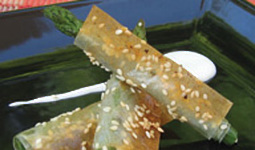 Crunchy aspargus roll & wasabi cream
30 pc X-Fine Aspargus Spears 4"
1 Feuille de Brick Dough
Echire Unsalted Butter cup
Sesame Seeds
Heavy Cream
Wasabi Powder
Salt
1.Cut the brick dough sheet in 4 rectangles.
2. Roll the asparagus in the brick dough, and hold it together with a toothpick.
3. Brush each roll with butter and sprinkle with sesame seeds.
4. Bake in the oven until golden brown.
5. Mix the heavy cream with the wasabi powder.
6. Serve warm with the wasabi cream.
Goat Cheese Bruschetta, Foie Gras & Porcini on Brioche, Ravioles du Royans Verrines, Shrimp Wrap on Basil