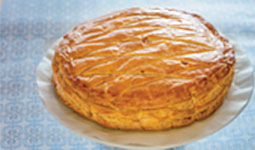 Galette des Rois
2 1/2 Sheet Puff Pastry
9 oz Granulated Sugar
9 oz Unsalted Butter
9 oz Almond Meal
4 Whole Eggs
2 oz Flour
0,8 oz Rum
Vanilla Extract
1 Small Ceramic Figurine
1 Egg
1. Frangipane:
2. Using the whisk attachment in a mixer, cream the sugar and butter together.
3. Add almond meal and continue whisking at medium speed.
4. Add eggs one at a time.
5. Gradually incorporate flour. Add rum and vanilla to finished batter.
6. Fill pastry bag with finished frangipane.
7. Cut a 14"" round into each puff sheet.
8. Pipe frangipane evenly on one round, leaving a 1"" border
9. Place the ceramic figuring on the frangipane.
10. Egg wash border. Place other puff pastry round on top of frangipane layer.
11. Press egg washed, 1"" borders together firmly.
12. Flip the galette over and egg wash. Score the top and edges as desired.
13. Store frozen until baking.
14. Bake from frozen in a convection oven at 350ºF for 45 minutes or until golden brown..
Raspberry Craquant, Sweet Plantain in a Crispy Brick Shell, Mango & Sweet Plantain on Vanilla Stick & Saffron Sauce, Red Fruits Pavlova