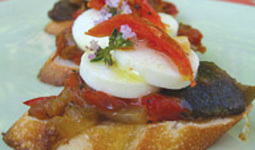 Goat Cheese Bruschetta
1 bag IQF Goat Cheese Small Slice
1 bag Ratatouille Mix
1 bag Roasted Red Tomatoes
5 French Baguettes
Olive Oil
Thyme Flower
1. Sauté the ratatouille and reserve.
2. Slice the baguette and lay the slices on a sheet pan.
3. Top each bread slice with the ratatouille.
4. On top of the ratatouille add 2 slices of goat cheese.
5. Bake for few minutes until the goat cheese soften.
6. Decorate with a slice of roasted tomatoes and thyme flower.
7. Finish with few drops of olive oil.
Crunchy aspargus roll & wasabi cream, Foie Gras & Porcini on Brioche, Ravioles du Royans Verrines