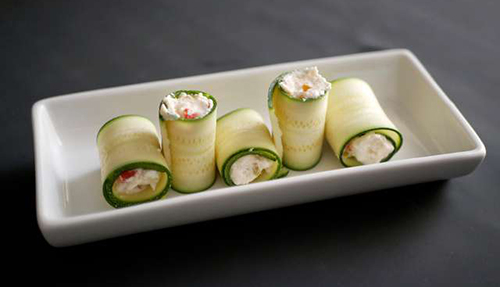 Goat Cheese Maki
4 slices of WT Goat Cheese
8 WT Roasted Red Tomatoes
1 British Cucumber
4 slices of Prosciutto
2 stems of Cilantro leaves - whole
1. Peel then slice lengthwise into thin strips using a mandoline.
2. Cut into half lengthwise to match the width of the cucumber slices. Place atop cucumber to form the base.
3. Cut goat cheese discs in half.
4. Place a half-slice of goat cheese, a roasted tomato and one cilantro leaf together at one end of the base.
5. Roll the proscuitto and cucumber base around the filling to the end.
6. Stand on end and season with pepper.
Goat Cheese Bruschetta, Crunchy aspargus roll & wasabi cream, Foie Gras & Porcini on Brioche, White Toque's Spanish Empanadas