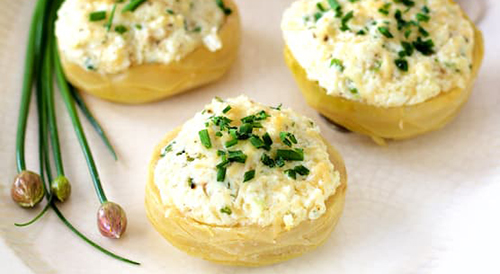 Goat Cheese Stuffed Artichoke Bottoms
Medium artichoke bottoms #40204
Goat cheese medium slice #57011
1/2 Cup freshly grated Parmesan cheese
4 Cloves garlic, minced
3 Tablespoons chopped fresh chives
2 Tablespoons chopped parsley
1. Preheat oven to 375 degrees.
2. Cut a thin slice from the bottom of artichokes to level and remove any remaining tough outer leaves. Spray a baking sheet with cooking spray.
3. In a bowl, combine goat cheese, Parmesan cheese, garlic, chives, parsley and salt and black pepper to taste. Spoon filling into artichokes, sprinkle with additional Parmesan cheese.
4. Bake for 15 to 17 minutes or until lightly browned and bubbling. Serve immediately.
Arichoke Quarters Salad