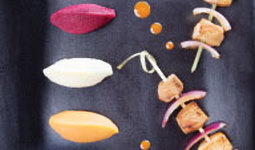 Marinated Chicken Skewers with Mashed Potato Trio
2 tbsp Roasted Tomato Glacis
2 tbsp Onion Glacis
2 tbsp Carrot Glacis
2 tbsp Red Beet Glacis
8 oz Mashed Potato Pellets
1 Chicken Breast
1/2 Red Onion
8 Bamboo Skewers
2.5 oz. Milk
1 oz. Butter
Salt & Pepper
Grapeseed Oil
1. Cut chicken breast into small cubes.
2. Whisk tomato and onion glacis together.
3. Pour over chicken and marinate 3 hours to overnight (as desired).
4. Cut a red onion into 1/2"" pieces.
5. Alternately skewer chicken and onion pieces with bamboo skewers.
6. Heat the milk to below scalding.
7. Add mashed potato pellets to milk and heat throughout.
8. Add butter to milk and potato mixture.
9. Season mashed potatoes with salt and pepper as desired.
10. Divide mashed potatoes into three parts. Set one aside.
11. Incorporate carrot glacis into second portion of mashed potatoes.
12. Incorporate red beet glacis into the remaining portion.
13. Display the three different mashed potatoes on the plate.
14. With grapeseed oil, sauté skewers and place on plate with mashed potatoes.
15. Decorate plate with a few drops of the carrot glacis and serve.
Vegetable Ragout Cassolette, Grilled Tuna Tulip, Spiced-Rubbed Beef Churrasco with Mild or Spicy Salsa, Noisettes of Lamb topped with Mushrooms and Parmesan