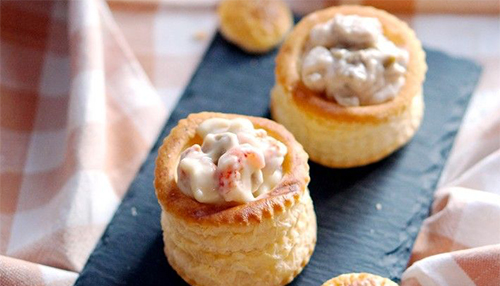 Mini Paris Mushrooms Bouchées with Bay Scallops
8oz Forest Mushroom Mix
1.4oz Echire Unsalted Butter Cup
2 Shallots
8 oz Bay Scallops (40 to 60 count)
16 fl oz Milk
16 fl oz Chicken Stock
1.4 oz Flour
Fresh Parsley Chopped
Fresh Cilantro Chopped
1 Tomatoes Diced
3 tbsp Olive Oil
6 Puff Pastry Bouchées
Salt & Pepper
1. Sauté the mushrooms for 5 minutes in a frying pan with a spoon of olive oil and shallots. Drain them but keep the juice for the sauce.
2. Sauté the scallops with 2 spoons of olive oil until they turn slightly brown.
3. In a saucepan, melt the butter and add the flour. Stir with a whisk and add milk, chicken stock and mushroom juice. Stir and cook for 10 minutes. Season with salt and pepper.
4. When the sauce is ready, add the mushrooms, scallops, diced tomatoes, chopped parsley and cilantro.
5. Fill the warm bouchées with the preparation.
6. Top with chopped parsley for decoration.
7. Tip: You can replace the bay scallops with diced chicken or turkey.
Goat Cheese Bruschetta, Crunchy aspargus roll & wasabi cream, Foie Gras & Porcini on Brioche, Ravioles du Royans Verrines, Shrimp Wrap on Basil