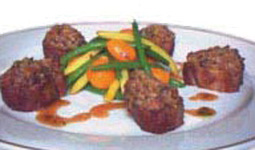 Noisettes of Lamb topped with Mushrooms and Parmesan
9 oz Forest Mushroom Mix
6 oz X-Fine Green Beans
3 oz Yellow Wax Beans X-Fine
4.5 oz Parisian Carrots
2 oz Shallots
1 Lamb saddle
Parmesan Cheese Graded
2 oz Cooked Ham
50 ml Heavy Cream
1 oz Butter
Olive Oil
Cognac
Thyme
Salt & Pepper
1. Sauté the mushrooms directly from frozen stage until the water reduces. Chop them finely.
2. Sauté 1 shallot and the ham thinly diced, add the mushrooms. Flambé with cognac and add cream, salt and pepper. Cook slowly for few minutes.
3. Boned the lamb saddle. Sauté the filet in a frying pan on each side.
4. Cut 8 noisettes on each filet and put them on a frying pan.
5. Top them with the mushroom stuffing and sprinkle with parmesan cheese.
6. Cook the vegetables in boiling water.
7. In a frying pan, sauté the remaining shallots with butter and add the drained vegetables.
8. Just before serving, put the lamb under a salamander until brown.
9. Display the noisettes around the plate and the vegetables in the middle.
10. Sauce: Lime juice and fresh thyme.
Grilled Tuna Tulip, Wild Mushroom & Ravioles, Foie Gras Escalopes, Spiced-Rubbed Beef Churrasco with Mild or Spicy Salsa,