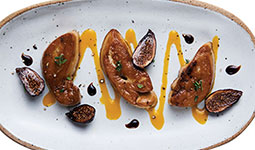 Pan seared foie gras with fig and porto wine sauce
• 50411 IQF Pre-Sliced Foie Gras – 3 pcs
• 61200 IQF Oven Roasted Black Fig – 6 pcs
• 60517 Andros Chef Mango Passion Coulis
• 11010 Cider Vinegar – 2 fl oz
• 11104 Balsamic Glaze
• Port Wine – 2 fl oz
• Butter – 1 oz
• Salt, pepper
• Cook the figs in butter in a sauté pan at a low temperature until fully warmed.
• Add port wine and cider vinegar.
• Continue cooking on low until reduced by half.
• On a separate plate, add salt and pepper to both sides of the frozen foie gras.
• In a hot sauté pan, sear foie gras 2 min on one side and 1 ½ to 2 min on the other side for rare foie gras.
• Place foie gras on plate, garnish with the port and fig reduction.
• Use the balsamic glaze and fruit coulis for decoration and serve.
Pan seared foie gras with fig and porto wine sauce