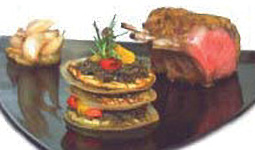 Rack of Lamb with a Maille Whole Grain Crust & Grilled Vegetable Mille-Feuille
7 oz Grilled Eggplant
4 oz Grilled Red Pepper Slab
2 feuilles de Brick Dough
3.5 oz Maille Whole Grain Mustard
1.4 oz Maille Dijon Mustard
2 Racks of Lamb
1.4 oz Breab Crumb
1 oz Olive Oil
1 Tsp Rosemary & Thyme
Black Olives
Garlic Cloves
4 oz Grilled Yellow Pepper
Salt & Pepper
1. Sauté the lamb on each side and display it on a plate.
2. Marinade the grilled vegetables with olive oil and garlic. Chop thinly the black olive and add some oil from the grilled vegetables. Cut 12 4" disk of feuille de brick and cook them few seconds in the oven.
3. Mix together the mustards, bread crumb, rosemary, thyme and 1 oz of olive oil.
4. Coat the lamb with the mustard mix and finish to cook the meat in the oven. At the same time, warm the grilled vegetables.
5. Prepare the mille feuille with 1 disk of feuille de brick dough, 1 disk of eggplant, the black olive tapenade and the peppers. Do that three times.
6. On the plate, put one mille-feuille, some confit garlic cloves and the lamb with 3 or four chop.
7. Sauce: Lamb juice with fresh rosemary and brown butter.
Boneless Quails with Forest mushrooms, Foie Gras Escalopes, River Cobbler with Anna Potatoes and Winter Vegetables, Noisettes of Lamb topped with Mushrooms and Parmesan