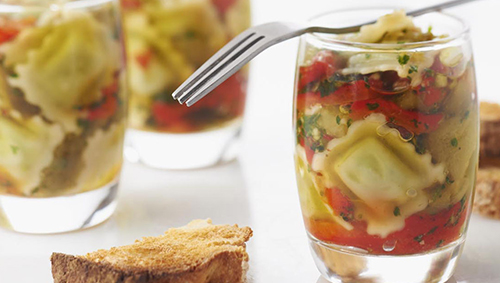 Ravioles du Royans Verrines
1.76oz Provencal Basil Ravioles
1.76oz Goat Cheese Ravioles
1 Zucchini
1 Yellow Squash
1 Red Pepper
1 Red Beet
1 Lemon
1 1/2 Shallots
1 oz Frisee Lettuce
5 tbsp Olive Oil
15 oz Grapeseed oil
Salt & Pepper
Fresh Thyme
1. Ratatouille Verrine With Provencal Basil Ravioles
2. Cook Basil Ravioles in simmering water for 2 mn, or until they start floating. Cool in cold water.
3. Toss cooled Ravioles in 1 tbsp olive oil.
4. Thinly slice the zucchini and yellow squash.
5. Roast the red pepper over an open flame, peel, remove seeds and thinly slice.
6. Saute vegetables and 1 shallot with 2 tbsp olive oil to make a ratatouille.
7. Season with salt and pepper
8. Place ratatouille at the bottom of the verrine, add the ravioles atop and drizzle with olive oil.
9. Decorate with fresh thyme.
10. Roasted Beets with Fried Goat Cheese Ravioles:
11. Preheat oven at 350F
12. Wrap beet in aluminium and roast for 1 hour. Cool and dice.
13. Season the red beet dices with lemon and place at the bottom of the verrine.
14. Chop 1/2 shallot
15. Toss together the chopped shallot, the frisee lettuce and 1 tbsp of olive oil. Place atop of red beets.
16. Heat grapeseed oil
17. Fry the goat cheese ravioles.
18. Place atop frisee salad.
Goat Cheese Bruschetta, Crunchy aspargus roll & wasabi cream, Foie Gras & Porcini on Brioche, Shrimp Wrap on Basil, Thin Apple Crust and Baked Goat Cheese