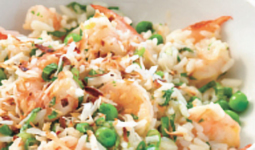 Rice and Seafood Salad
2 bags X-Fine Asparagus Spears 4"
1 box Boil in Bag Rice Cooked & Chilled
1 box Wild Rice Cooked & Chilled
1 jar Pitted Salt Cured Olives (14oz)
1 lb Cooked 200-300 Shrimp
4 oz portion Smoked Salmon Shredded
1 bunch Fresh Scallions Chopped
Chopped Fresh Seasonal Herbs
Light Mayonnaise
Salt & Pepper to taste
1. Thaw and pat dry all vegetables except the roasted tomatoes. Cut asparagus into bite size pieces.
2. Cook diced artichoke bottoms to remove citrus flavors if present, chill, reserve.
3. Cook both rice packets according to directions without seasoning to make a 3 to 1 ratio of white to wild rice and a total of 12 cups.
4. Combine peas, baby carrots, roasted tomatoes, aspargus, artichoke, cornichons, rice, olives, shrimps, salmon, scallions, herbs and keep chilled.
5. To make the dressing, combine mustard, light mayonnaise, vinegar, salt and pepper, adjust seasonings to taste.
6. To serve add dressing to the salad and let sit for 15 minutes in cooler.
7. Tip: Dress only what you are serving and serve at once as the vinegar will wilt and discolor the veg as well as continue to cook your seafood.
This is just for the testing purpse.