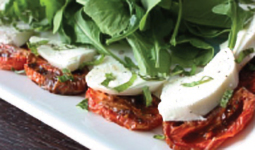 Roasted Tomato and Bufala Mozzarella Caprese Salad
2 bags X-Fine Asparagus Spears 4"
1/2 lb Cherry Tomatoes
6 oz Olive Oil
1 bunch Fresh Basil Chiffonade
Salt & Pepper to taste
1 tbsp Basil Pesto
1. Thaw the tomatoes and the Bufala Mozzarella Pearls.
2. To make the dressing combine half of the fresh basil chiffonade, olive oil, the basil pesto, salt and pepper, adjust seasoning to taste.
3. To serve add dressing to the toamtoes and Bufala mozzarella pearls garnish with whole basil leaves and serve atop a fan of asparagus spears.
4. Tip: the oil and garlic dressing will help to preserve the mozzarella in the cooler and may now be treated as a fresh Bufala mozzarella product with a 5 to 7 day shelf life.
This text is just for testing of the suggestion. It will be replaced by actual content of the page.