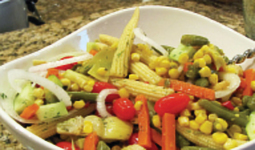 Salad Flamenade
1.5 lb Parisian Carrots
1 bag X-Fine Green Beans
1.2 lb Small Artichoke Bottoms
12 oz X-Fine French Peas
4 oz Maille Whole Grain Mustard
13 oz X-Fine Asparagus Spears 4"
Olive Oil
5 oz Heavy Cream
3 Lemon Juice
Fresh Chopped Tarragon
Endives (for decoration)
Salt & Pepper to taste
1. Thaw and mince the artichoke bottoms. Sauté them with olive oil until cooked.
12. Cut the asparagus into 2.5" lengths, and sauté them with olive oil for about 1 minute.
13. Cook the green beans for 2 minutes in boiling water and cool them right away in chilled water to keep their color.
14. Cook the green peas in boiling water for 1 minute and chill them.
15. Cook the parisian carrots for about 3 minutes and chill them.
16. Drain all vegetables and combine them with the sauce and serve.
17. Sauce: In a bowl, mix the whole grain mustard with cream, lemon juice, fresh tarragon, salt and pepper.
Chicken Pesto salad, Tabouli, White Toque Passion Salad, Salad Nicoise