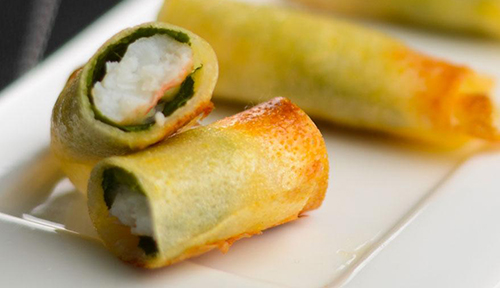 Shrimp Wrap on Basil
3 Feuilles de Brick Dough
2oz Peeled Fava Beans
3.4fl oz Maille Balsamic Vinegar
15 Jumbo Shrimp
1/2 Bunch of basil
1 Tomato
2 Scallions
Olive oil
15 Tooth picks
Salt & Pepper
1. Cut each feuille de brick dough in five portions.
2. On each shrimp, put a leaf of basil and wrap it in a piece of brick. Use a tooth pick to hold it together.
3. Dice the tomato, add the minced scallions and peeled fava beans previously hand blanched. Season with olive oil, salt and pepper.
4. Reduce the balsamic vinegar down to a syrup consistency.
5. In a fryer at 350°F, plunge 15 basil leaves for a few seconds, and put them on a paper towel. Deep fry the shrimp for 1 minute and put them on a paper towel as well.
6. On the plate, arrange the shrimp in the middle, then place the fava beans salad and the fried basil leaves around.
7. Finish by garnishing the plate with the balsamic reduction. Serve at once.
Goat Cheese Bruschetta, Crunchy aspargus roll & wasabi cream, Foie Gras & Porcini on Brioche, Ravioles du Royans Verrines, White Toque's Spanish Empanadas