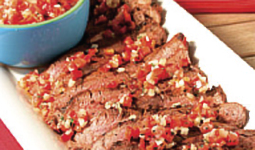 Spiced-Rubbed Beef Churrasco with Mild or Spicy Salsa
2 cups Mild Salsa
or 2 cups Spicy Salsa
Beef Churrasco Steak
1tsp garlic powder
2 tsp ground cumin
2 tsp paprika
1 tsp chipotle chile powder
1/2 tsp kosher salt
1/2 tsp ground cinnamon
1 tbsp extra virgin olive oil
cooking spray
1. Preheat grill to high heat.
2. Thaw out 2 cups of Mild or Spicy Salsa.
3. To prepare the Beef Churrasco steak, combine garlic powder, ground cumin, paprika, chipotle chile powder, kosher salt and ground cinnamon.
4. Brush both sides of the Beef Churrasco Steak with olive oil, and sprinkle with spice mixture.
5. Spray grill rack with cooking spray.
6. Place Beef Churrasco Steak on grill rack and grill 4 minutes on each side or until desired doneness is reached.
7. Let stand for 5 minutes. Cut the Beef Churrasco Steak diagonally across grain into thin slices.
8. Serve with fresh tasting Mild or Spicy Salsa.
Boneless Quails with Forest mushrooms, Wild Mushroom & Ravioles, Marinated Chicken Skewers with Mashed Potato Trio, Noisettes of Lamb topped with Mushrooms and Parmesan