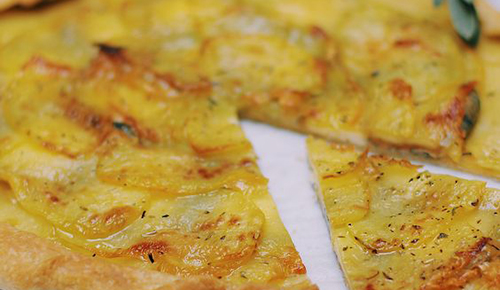 Thin Apple Crust and Baked Goat Cheese
1 Half Sheet Butter Puff Pastry
8 Goat Cheese Medium Slices
2oz Echire Salted Butter Cup
1tbsp Maille Balsamic Vinegar
8 Gala Apples
2 Mesclun
0.25 oz Micro Greens
1 tbsp Olive Oil
1. Bake the Puff Pastry between two sheet pans to avoid from rising.
2. Slice the apples and saute them with Echire butter.
3. Add the mix of mesclun and micro greens, and lightly season with olive oil.
4. Top with the warm Goat Cheese previously baked.
5. Finish the plate with a touch of Maille Balsamic Vinegar.
Goat Cheese Bruschetta, Crunchy aspargus roll & wasabi cream, Foie Gras & Porcini on Brioche, Ravioles du Royans Verrines