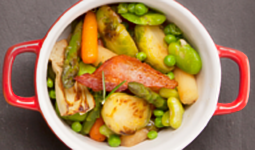 Vegetable Ragout Cassolette
3 oz Artichoke Quarters
3 oz Brussel Sprouts
3 oz Baby Carrots
3 oz Salsifis
2 oz Flageolets
2 oz Peas
2 oz Peeled Fava Beans
2 oz Asparagus 4"
1 tsp Carrot Glacis
1 tsp Onion Glacis
2 oz Butter
2 tbsp Olive Oil
1 oz Sugar
1/3 cup Water
4 Pancetta Slices
1. Melt butter with olive oil.
2. Saute the artichokes and brussel sprouts until golden brown.
3. Add the carrots, salsifis, flageolets to the wok and heat up until lightly colored.
4. Add the vegetable glacis, sugar and water.
5. Cover and simmer for 5 minutes.
6. Add the peas, fava beans and asparagus.
7. Saute under high heat until the vegetable juice is reduced and the vegetables are glazed.
8. Arrange the vegetables in each cassolette.
9. Saute the Pancetta and add on top of the vegetables.
Boneless Quails with Forest mushrooms, Wild Mushroom & Ravioles, Marinated Chicken Skewers with Mashed Potato Trio, Spiced-Rubbed Beef Churrasco with Mild or Spicy Salsa