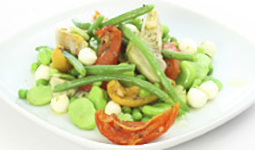 White Toque Passion Salad
6 oz Small Artichoke Bottoms
6 oz French Peas X-Fine
5 oz Peeled Fava Beans
3 oz X-Fine Asparagus Spears 4"
3 oz Mango Chuncks Grade A
3 oz Buffalo Mozzarella Pearls
1/4 cup Passion Fruit Coulis
1/8 cup Maille Vinegar White Wine
5 oz Pasta
5 oz Fresh Plum Tomato
3 oz Fresh Fenel
3 bunches Fresh Cilantro
0.5 oz Dried Morello Cherries
1/2 cup Olive Oil
1/2 Lime Juice
Orange Peel
2 Fresh Spring Onions
Salt & Pepper to taste
1. Slice the artichoke bottom and saute with olive oil. Cool down.
2. Cook the fava beans, peas and asparagus two minutes and cool down.
3. Cook the pasta and rinse in cool water.
4. Cut in julienne the tomatoes and fenel.
5. Dice the mango and morello cherries.
6. Blend all vegetables preparation above add the mozzarella pearls, the fresh cilantro chopped, spring onion chopped and some orange zest.
7. Make the vinaigrette by mixing the passion fruit coulis, olive oil and vinegar and lime juice.
8. Season the vegetable with the vinaigrette, add salt and pepper if necessary.
9. Place the salad 30 mn in the refrigerator before serving.
Chicken Pesto salad, Tabouli, Salad Flamenade, Salad Nicoise