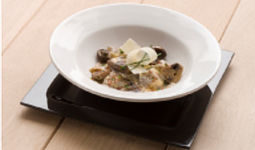 Wild Mushroom & Ravioles
9 oz. Mushroom Mix
5 oz. Porcini Ravioles
4 slices Ciabatta Baguette
1 tsp. Chopped Shallots
1 tbsp. Chopped Garlic
1 tsp. Chopped Parsley
2 tbsp. peanut oil
1/4 cup grated comte cheese
1. Preheat your oven at 350ºF.
2. Boil a large pot of salted water. Poach the Porcini Ravioles for 2 minutes and cool them in cold water.
3. Toast Ciabatta Bread slices.
4. Sauté the Mushroom Mix directly in a frying pan (don't thaw them out). Set aside.
5. In the same pan, sweat the Shallots and Garlic without browning them. Add the Mushroom Mix and deglaze with mushroom juice. After a few minutes, add the Ravioles, the chopped Parsley and season with salt and pepper.
6. Place the preparation on the Ciabatta Bread and sprinkle with comte cheese.
7. Bake in the oven for 1 minute.
Vegetable Ragout Cassolette, Foie Gras Escalopes, Spiced-Rubbed Beef Churrasco with Mild or Spicy Salsa, River Cobbler with Anna Potatoes and Winter Vegetables