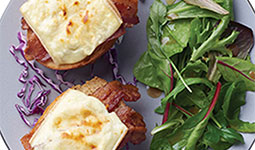 Bacon cheese bruschetta
• 58500 French Baguette – 1 baguette
• 57204 Raclette Cheese Slices – 16 pcs
• Cooked bacon slices – 8 slices
• Butter – 8 oz
• 2 Red Onion caramelized

• Slice the thawed French baguette in half and cut pieces to 5 inches each, spread butter on each piece of bread.
• To each piece of bread add the bacon, the caramelized onion and 2 slices of raclette cheese.
• Heat in oven at 350°F for 8 min.
• Remove from oven, place on a plate and serve with a mixed green salad.
Bacon cheese bruschetta