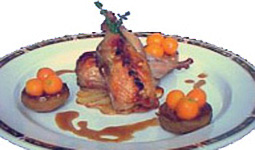 Boneless Quails with Forest mushrooms
1 bag Parisian Carrots
1 bag Forest Mushroom Mix
36 pc Small Artichoke Bottoms
2 Echire Unsalted Butter Cups
3 oz Shallots
6 Potato Rosettes
12 pc Quail
6 oz Cooked Ham
1/2 pint Heavy Cream
1 tsp Cognac
1. Sauté the frozen mushrooms until the water reduces and chop them finely.
2. Sauté the shallots and ham thinly diced then add the mushrooms. Flambé with cognac and add the cream, salt and pepper. Cook slowly for few minutes.
3. Boned the quail from each side so you do not cut the skin to open them. Stuff them with the preparation above. Put a small knob of butter on each quail and a branch of thyme.
4. Roll the bird in an aluminum foil.
5. Preheat a sauté pan in a very hot oven (475°F) and put the quails inside. After 5 minutes, turn over the quails and finish cooking them for about 10 minutes.
6. During that time sauté the artichokes bottoms with olive oil and finish cooking them in the quail juice.
7. Cook the carrots in boiling water. Cool down in cold water.
8. Put 2 quails on a potato rosette in the middle of the plate and 3 artichokes bottoms around topped with carrots.
9. Sauce: Quail juice.
Vegetable Ragout Cassolette, Grilled Tuna Tulip, Foie Gras Escalopes, Spiced-Rubbed Beef Churrasco with Mild or Spicy Salsa