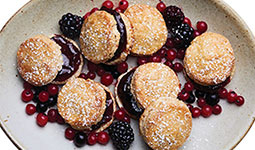 Buttermilk Scones
• 20201 Raspberry Bonne Maman
• 13 oz jar Flour – 8oz
• Baking powder – 1 tsp
• Salted butter cut into small cubes
• 2oz Sugar – 3.15oz
• Dry lavender – 1 ½ tsp
• Buttermilk – 9oz
• Icing sugar – 1oz

• Mix the dry ingredients, then add the butter and the buttermilk stirring slowly to make a soft dough.
• Briefly knead the dough on a floured surface, then lightly roll out about ¾ inch thick.
• Cut scones with a 2 ½ inch pastry cutter and place on a greased baking sheet.
• Brush the top of each scone with a little extra buttermilk then bake in oven for 10-12 min at 390°F.
• Cool on a wire rack then dust with icing sugar.
• Serve with Raspberry Bonne Maman preserve.

Buttermilk Scones