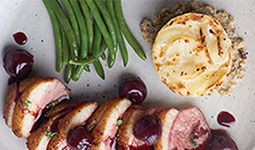 Duck Magret, Potato Gratin
• 55218 Moulard Duck Magret – 1 pc
• 53210 Individual Potato au Gratin – 1 pc
• 40001 Extra Fine Green Beans – 1.5 oz
• 16008 Mushroom Spread – 1 Tbsp
• 61006 IQF Pitted Morello Cherry – 5 pcs
• 20205 Bonne Maman Cherry – 1 Tbsp
• Glace de Veau – 3 oz
• Salt and Pepper
• Score the duck magret's skin without cutting into the meat.
• Season both sides with salt and pepper.
• Preheat a castiron pan for 2 min over medium-high until hot but not smoking.
• Place duck magret fat side down on pan. Cook for 3 min. Turn the duck magret, cover and cook for an additional 3 min.
• Insure the fat is golden and crispy before removing from the pan. Place duck magret on sheet pan and place in a preheated 375°F oven for 5 to 6 min.
• Remove duck magret from oven, and allow to rest for 15 min.
• Preheat the oven at 350°F and put the potato gratin in for 11 minutes.
• Prepare the extra fine green beans as per direction and place them in a bundle.
• Heat the mushroom spread.
• Heat glace de veau in pan, add the IQF Morello Cherry and Bonne Maman Cherry preserves. Stir ingredients together. Let simmer on low for 5 min.
• Cut slices of Duck magret and place them on a presentation plate. Add potato gratin on a layer of mushroom preparation and green beans bundle on the side.
• Finish the dish with cherry reduction over the sliced duck magret and serve.
Duck Magret, Potato Gratin