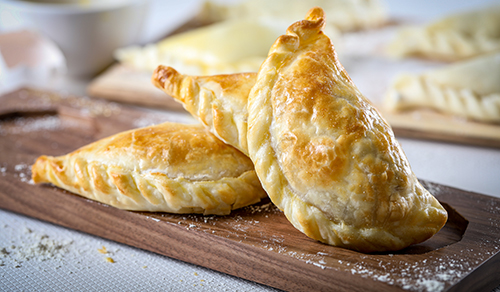 Empanadas with Carnitas
10 Empanada dough
1½oz. Carnitas
1 Cup Sofrito sauce
10oz. Chimmichurri sauce
1 Cup potato pellets
1 Cup French peas
1 Cup Parisian carrots
1 Tablespoon cumin
1/2 Cup cilantro
1. Sautee the carnita with sofrito.
2. Drain excess oil/fat & reserve.
3. Mix all ingredients in a bowl and season with salt and pepper.
4. When cool place 1.5oz. of filling in empanada disc & fold curling or crimping the edges.
5.Egg wash if you want a deeeper golden color.
6. Bake 400°F for 10-15 minutes.
7. Let them cool before serving.
Crunchy aspargus roll & wasabi cream, Chicken, Fig & Goat Cheese Samosa