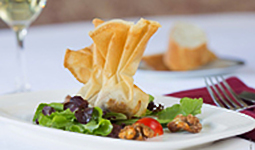 Goat Cheese Aumoniere
10 Feuilles de Brick Dough
1 bag Spinach Leaves
10pc Goat Cheese Small Slice
Maille Vinegar Cider
Echire Unsalted Butter Cup
2 Pears
Salad
Olive oil
3 Garlic Cloves
Salt & Pepper
10 Tooth Picks
1. Sauté the spinach and chopped garlic in butter.
2. Brush one side of each feuille de brick with clarified butter. In the center, put the spinach and goat cheese, then top it with diced pears.
3. Give the brick dough a bundle shape and attach it with a tooth pick.
4. Put the bundles on a sheet pan with baking paper and bake them for 10 to 15 minutes at 350°F.
5. When baked, remove the tooth pick, and serve on a bed of salad, seasoned with olive oil and Maille apple cider vinegar.
6. Sauce: Lamb juice with fresh rosemary and butter that is browned in a saucepan.
Goat Cheese Bruschetta, Crunchy aspargus roll & wasabi cream, Foie Gras & Porcini on Brioche, Ravioles du Royans Verrines