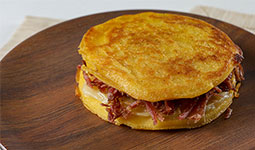 Grilled Mozzarella Corn Sandwich with Bacon, Ham & Cheese
1 Mozzarella Corn Sandwich 6.5oz
1/4lb. Smoked Ham
1/4 Bacon
4 Slices Mozzarella Cheese
1. Slightly defrost the sandwich to separate the 2 patties.
2. Cook the bacon until golden brown.
3. On top of the lower corn patty add two layers of ham, then a layer of bacon, then 1 sliced mozzarella cheese and do repeat the same sequence again then add the second patty and warm it on the pannini grill.
4. When gold brown, remove it from the grill, cut in two and add your own touch for plate presentation.
(You can do the same with grilled chicken, pulled pork, turkey etc..)