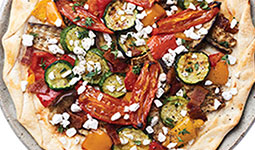 Grilled Vegetable Flammekueche
• 64001 Tart Flambee Crust Medium – 1 pc
• 41902 Mixed Grilled Vegetables – 8.8oz
• 41909 IQF Oven Roasted Tomato Quarters – 6 pcs
• 57011 IQF Goat Cheese Crumble – 2.8oz
• 14004 Extra Virgin Olive Oil – as needed
• Basil, Shallots – as needed
• Sour cream – 3 Tbsp
• Place 1 Tart Flambée crust on pizza screen.
• Add a thick layer of sour cream to fill the entire dough.
• Evenly place thawed Mixed Grilled Vegetables, shallots, roma tomato, salt and pepper on the dough and heat in oven at 385°F for 8 min.
• Sprinkle Goat Cheese Crumble on top of Flammekueche and heat up for an additional 4 min.
• Remove from oven and garnish with olive oil and basil and serve.

Grilled Vegetable Flammekueche