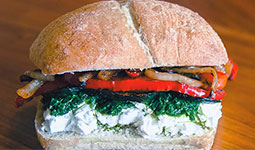 Italian Sandwich
1 pc Ciabatta 8" Plain 4.2oz
2 oz Grilled Eggplant
2 oz Grilled Red Pepper Slab
4 IQF Goat Cheese Small Slice
Olive Oil
Garlic
Sun-Dried Tomato Pesto
Basil Pesto
2 oz Grilled Yellow Peppers
1. Marinade the red and yellow peppers with olive oil and garlic.
2. Bake the ciabatta for 15 min from frozen.
3. When the bread is cold, cut it by the middle, and spread the tomato pesto in one side and the basil pesto on the other side.
4. Fill the sandwich with eggplant, red and yellow peppers and finish it with sliced goat cheese.
5. Tips: You can also serve this sandwich hot. Prepare the sandwich as above without cooking the bread. Once you are done preparing the sandwich, bake it or grill it in a panini oven.
Grilled Vegetable Sandwich with Prosciutto