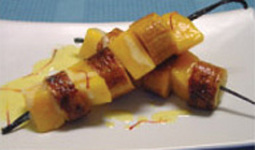 Mango & Sweet Plantain on Vanilla Stick & Saffron Sauce
12 oz Sweet Plantains
12 oz Mango Chunks Grade A
Echire Unsalted Butter
Olive Oil
4 Vanilla Beans
8 oz Milk
1.7 oz Sugar
3 Egg Yolk
Saffron
1. Cut the vanilla beans in half length wise. Remove the vanilla seeds that you set aside for the sauce. Dry the vanilla beans in the oven at 150°F for one hour.
2. Cut the plantains in 6 to 8 pieces and put them on the vanilla stick alternatively with the mango chunks.
3. Bring the milk to boil with some of the vanilla seeds. Mix the egg yolk and sugar with a wisk, and poor over the milk. Cook on the stove until creamy texture but do not boil. Infuse few saffron pistil and cool down.
4. In a fry pan, sauté the fruit brochette on each side with some butter.
5. Place two brochettes on a plate and the saffron sauce around.
Raspberry Craquant, Sweet Plantain in a Crispy Brick Shell, Galette des Rois, Red Fruits Pavlova