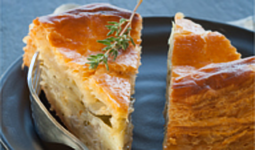 Potatoe Pie
2 WT Puff Pastry 1/2 Sheet
3 Potatoes
1 Onion
1 bunch Italian Parsley
1oz Butter - Pat
1 Thyme Sprig
8oz Crème Fraiche
1 Bay Leaf - Whole
1 Eggs
Salt
Pepper
1. Peel potatoes and place in water until slicing. Thinly slice the potatoes.
2. Add the minced onion to the potatoes and mix together.
3. Chop parsley and add to the potatoes.
4. Season with salt and pepper to taste.
5. Cut one circle in each 1/2 sheet pastry dough.
6. Strain any residual water from potato mixture. Place potatoes on one dough circle leaving a 1/2 inch perimeter.
7. Place pat of butter, thyme sprig and bay leaf on top of potatoes.
8. With the beaten egg, brush the 1/2 perimeter and add the other dough
9. on top. Press firmly on the edge to close the pie, and make a small hole in the center, then egg wash.
10. Bake for 45 minutes at 350ºF.
11. With a knife, cut a 2 to 3 inch circle in the middle. Add the crème fraiche.
12. Bake for another 15mn at 320ºF.
13. Before serving, remove thyme sprig and bay leaf.
14. Cut and serve as a side dish or serve as an entrée garnished with iceberg lettuce.
Maple Walnut Brussel Sprout and Chestnuts, Green Beans With Glazed Shallots, Ratatouille Croustilland With Crumbled Goat Cheese