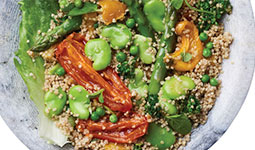 Quinoa Salad
• 51752 Cooked IQF Golden Quinoa – 1 bag
• 40502 Peeled Fava Beans – 1 bag
• 40909 Broccoli Florets – 1 bag
• 41006 Grilled Yellow Pepper Halves - 1 bag
• 41007 Grilled Red Pepper Halves – 1 bag
• 41909 IQF Oven Roasted Tomato Quarters – 1 bag
• 40305 Parisian Carrots – 1 bag
• 40001 Extra Fine Green Beans – 1 bag
• 11003 White Wine Vinegar – 7 Tbsp
• 10102 Whole Grain Mustard – 2 Tbsp
• 14004 Extra Virgin Olive Oil – 1 cup
• Fresh Rosemary – 10oz
• French Thyme – 10oz
• Shallots – 1 pc
• Salt and Pepper

• Defrost 1 bag of quinoa for 30 minutes at room temperature.
• Mix together: Fava Beans, Broccoli, Yellow and Red Pepper cut in pieces, Roasted Tomatoes, Parisian Carrot, Extra Fine Green Bean.
• Chop the rosemary and thyme.
• Mince 1 shallot.
• Make vinaigrette by combining white wine vinegar, whole grain mustard, olive oil, salt and pepper and whisk together.
• Add vinaigrette to the salad and serve.
Quinoa Salad