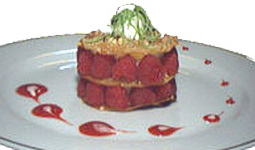 Raspberry Craquant
3 feuilles de Brick Dough
La Fruitière Raspberry Purée
2 tsp Honey Bonne Maman
1.5 oz Whipping Cream
9 oz Fresh Raspberries
1 oz Chopped Almonds
1 Lime
1 oz Chopped Pistachios
2 oz Icing Sugar
1. Cut six 3"" disks in each feuille de brick dough.
2. Spread the honey on 3 of them and add the second disk on top of it.
3. Sprinkle over the chopped almonds and pistachios, then half of the icing sugar.
4. Bake in the oven at 350°F until the sugar caramelize.
5. Whip the cream with the rest of the sugar and add the lime juice at the end.
6. Put the first disk on the plate with a spoon of cream in the middle and arrange the raspberries around. Add the second disk and repeat the same operation.
7. On top of the third disk, put a small ball of cream and decorate with candied lime zest.
8. Sauce: Raspberry Puree.
Sweet Plantain in a Crispy Brick Shell, Mango & Sweet Plantain on Vanilla Stick & Saffron Sauce, Galette des Rois, Red Fruits Pavlova