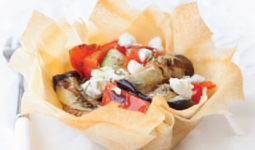 Ratatouille Croustilland With Crumbled Goat Cheese
4 sheets Feuille de Brick Dough
4 pieces Grilled Zucchini
4 pieces Grilled Eggplant
2 Tbsp Goat Cheese Crumbled
4 Ramekins
2 Tbl Butter - Melted
2 Tbl Olive Oil
1 red bell pepper
1 Garlic clove
1 Tbl Rosemary
1 Tbl Thyme
1. Cut sheet into four even quarters.
2. Brush butter into ramekins, then place 4 layers of brick dough into ramekin.
3. Bake at 350ºF until shells are golden brown, approximately 5 minutes. Let cool.
4. Slice red bell pepper and sauté in olive oil.
5. Slice zucchini and eggplant, and add to bell pepper.
6. Mince the garlic and the rosemary.
7. Mince the thyme and add to rosemary & garlic.
8. Add herbs to vegetable mixture. Season with salt & pepper. Cook until vegetable juice is reduced.
9. Place vegetable mixture in brick dough shells.
10. Sprinke with goat cheese and serve.
Maple Walnut Brussel Sprout and Chestnuts, Green Beans With Glazed Shallots, Potatoe Pie